Submitted by

chandra

on Wed, 2017-01-04 09:23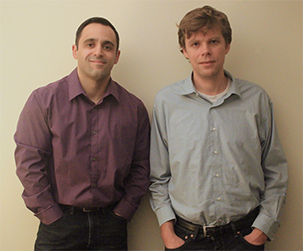 Felipe Andrade-Santos and Reinout van Weeren
For this guest blog post, we are lucky to have not one, but two, contributors. Reinout van Weeren obtained his PhD from Leiden University, The Netherlands, before moving to the Harvard-Smithsonian Center of Astrophysics as an Einstein Postdoctoral Research Fellow. He is currently a Clay Fellow at the same place. He works on merging galaxy clusters, focusing on combined radio and X-ray observations. Felipe Andrade-Santos obtained his PhD from the Universidade de São Paulo, Brazil, before becoming a postdoctoral research fellow at the Harvard-Smithsonian Center of Astrophysics. He works on X-ray observations of galaxy clusters and galaxy cluster samples. Reinout and Felipe recently presented their study on the merging galaxy cluster system Abell 3411 and 3412 at the 229th meeting of the American Astronomical Society meeting in January 2017.
Galaxy clusters are the most massive objects in the Universe bound together by gravity and contain up to a few thousand galaxies. They are also permeated by very thin 100-million-degree gas that is held together by the cluster's strong gravitational pull. This hot gas can be imaged with X-ray satellites such as NASA's Chandra X-ray Observatory. Galaxy clusters form by mergers of smaller clusters and galaxy groups. During a merger event, which typically lasts for about a billion years, the galaxies mostly fly past each other without strongly interacting. In contrast, the diffuse gas in the merging clusters collides, creating giant shock waves, which are cosmic versions of sonic booms generated by supersonic aircraft. Cluster mergers have been of great interest to astronomers and us because of the extreme physical processes that take place during such events.
Radio telescopes have shown that large regions of merging galaxy clusters glow at radio wavelengths. The radio emission is produced by tiny particles, called electrons, which spiral around magnetic field lines and have energies that are a million times higher than the particles making up the hot cluster gas. Astronomers have long been puzzled by how these energetic electrons are produced. One idea is that the energetic particles are accelerated to these extreme energies by shocks created when clusters collide and merge.