Submitted by

chandra

on Mon, 2019-10-28 15:51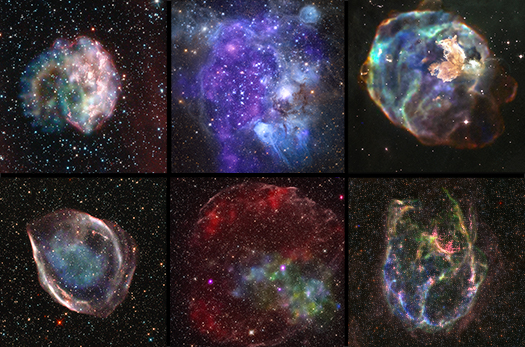 2019 Chandra Archive Collection
Credit: Enhanced Image by Judy Schmidt (CC BY-NC-SA) based on
images provided courtesy of NASA/CXC/SAO & NASA/STScI.
It is both an art and a science to make images of objects from space. Most astronomical images are composed of light that humans cannot detect with their eyes. Instead, the data from telescopes like NASA's Chandra X-ray Observatory are "translated," so to speak, into a form that we can understand. This process is done following strict guidelines to ensure scientific accuracy while trying to achieve the highest levels of aesthetics possible.
Over the two decades of the Chandra mission, we have had many talented people who have been involved with making our publicly-released images. We interviewed our current team and share some of their answers to questions posed to all of them below. Kim Arcand is Chandra's visualization lead and has been with the mission since before launch; Nancy Wolk has been involved with Chandra's data analysis, software, and spacecraft science operations before joining the image processing team; Lisa Frattare spent years making images from the Hubble Space Telescope before switching career gears but continues to lend her expertise part-time to Chandra's efforts; Judy Schmidt is a citizen scientist who spends some of her free time using public data to make gorgeous images of space, including those featured in our latest release.