Submitted by

chandra

on Fri, 2021-11-19 16:10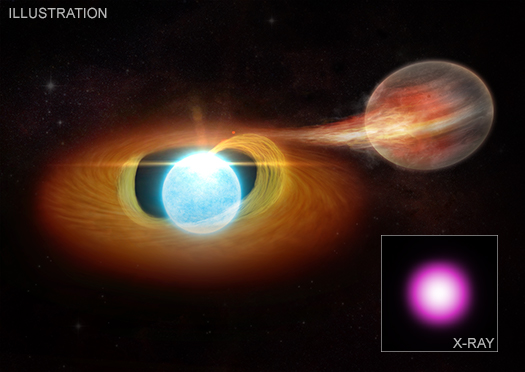 White Dwarf KPD 0005+5106
Credit: Illustration: NASA/CXC/M. Weiss; X-ray (Inset): NASA/CXC/ASIAA/Y.-H. Chu, et al.
A team of scientists used NASA's Chandra X-ray Observatory and ESA's XMM-Newton to investigate some unusual X-ray activity of a white dwarf star, as reported in our latest press release. The data suggest this white dwarf is blasting a companion object, which is either a low-mass star or planet, with waves of heat and radiation while pulling it apart through gravitational force.
Most stars, including the Sun, will become "white dwarfs" after they begin to run out of fuel, expand and cool into a red giant, and then lose their outer layers. This evolution leaves behind a stellar nub that slowly fades for billions of years. An artist's illustration shows a white dwarf as the blue-white sphere near the center.