Submitted by

chandra

on Wed, 2022-06-29 11:12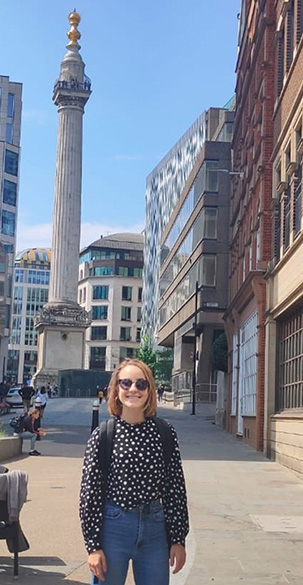 Julia Sisk-Reynés
Our guest contributor is Julia Sisk-Reynés, the leader of a new black hole study that is the subject of our latest press release. Julia is a second-year PhD student at the Institute of Astronomy at the University of Cambridge, UK, where she is a member of the X-ray group working mainly with Prof. Chris Reynolds and Dr. James Matthews. Her primary focus is on constraining beyond the Standard Model Physics – in particular, axion-like particles (ALPs)- with X-ray observations of cluster-hosted active galaxies. The team have recently set the tightest limits to-date on the coupling of very light ALPs to electromagnetism with Chandra X-ray observations of the cluster-hosted quasar H1821+643. Julia came to Cambridge in 2020, straight after graduating from the University of Manchester with a master's degree in physics. Amongst others, she did a project on assessing the sensitivity of the DarkSide-20k liquid argon experiment in Gran Sasso, Italy, to direct dark matter detection.
Black holes are one of the most tantalizing objects in the Universe. By 1915, Einstein's Theory of General Relativity had introduced the notion that the gravity of black holes is so strong that they can distort the space-time around them … to the point where even light close to the black hole cannot escape! More recently, astronomers have gathered evidence that most – if not all – galaxies emitting lots of light at the center (also called active galactic nuclei or AGN) host a very massive black hole at their core. It is known that the properties of AGN and their central black holes are often linked. For example, the heavier the AGN, the heavier its host black hole. Therefore, the formation, growth, and evolution of black holes over time and their connection with the properties of their host galaxies are fascinating topics for astronomers to pursue.
Astronomers classify black holes into three groups, depending on their mass. Firstly, stellar-mass black holes, thought to form from the gravitational collapse of a star, weigh a few to a few tens of times the mass of the Sun. Then, we have a class of black holes of unknown origin which range from hundreds to tens of thousands of Suns, often referred to as "intermediate mass" black holes. A gravitational wave event detected in 2019 by the LIGO and VIRGO collaborations confirmed the existence of a black hole in this second category. Finally, supermassive Black Holes (SMBHs) weigh between millions and billions of Suns. While their origin is still debated, what we do know is that accretion, that is, the feeding of gas onto such black holes, is responsible for the X-ray emission coming from the AGN that surround them.