Submitted by

chandra

on Wed, 2022-11-02 10:07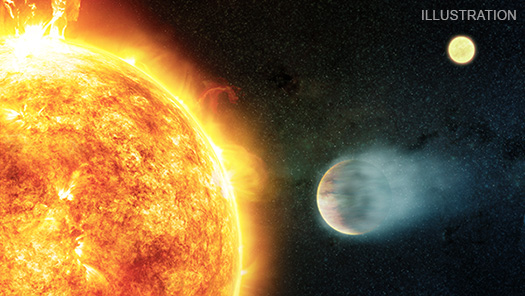 Hot Jupiters
Credit: Illustration: NASA/CXC/M.Weiss. X-ray: NASA/CXC/Potsdam Univ./N. Ilic et al.
An artist's illustration shows a gas giant planet (lower right) closely orbiting its host star (left), with another star in the distance (upper right). The two stars are themselves in orbit with each other. As explained in our latest press release, a team of scientists used NASA's Chandra X-ray Observatory and ESA's XMM-Newton to test whether such exoplanets (known as "hot Jupiters") affect their host star in comparison to the star that does not have one. The results show that these exoplanets can make their host star act younger than it is by causing the star to spin more quickly than it would without such a planet.
The double-star (or "binary") system in the illustration is one of dozens that astronomers studied using Chandra and XMM-Newton to look for the effects of hot Jupiters on their host stars. A hot Jupiter can potentially influence its host star by tidal forces, causing the star to spin more quickly than if it did not have such a planet. This more rapid rotation can make the host star more active and produce more X-rays, making it appear younger than it really is.