Cosmic Poetry Competition 2021: The Winners
Submitted by

chandra

on Thu, 2021-03-11 10:11
We are delighted to again welcome Jonathan Taylor as a guest blogger. Jonathan is the author of several novels and poetry collections, the editor of several anthologies, and Associate Professor in Creative Writing at the University of Leicester in the UK.
I've always been fascinated by the intersections and overlaps between Creative Writing and science. It's always seemed to me that poetry and cosmology, for example, share a great many characteristics, in their methods and means of communication: they both play with, even bend, language; they both use metaphor and analogy; they both re-enchant and defamiliarize our universe, so we see it anew. Having written various poems over the years for Chandra X-Ray Observatory (in March 2010, June 2010, April 2012, and August 2016), I often find the poetry is already there, waiting to be discovered, in the language used to capture Chandra's amazing revelations.
Hence, as part of their course, we encourage our Creative Writing students at Leicester University to explore some of the fascinating overlaps between their writing and scientific research – including the work of NASA and Chandra X-Ray Observatory. Over the years, this has resulted in various student competitions (in December 2010: part one and part two; May and June 2012: part one and part two; February 2016, and February 2017). In January 2021, we held a new competition for student writers, in which they were again invited to submit poems that explore – directly or indirectly, literally or metaphorically – the language and findings from one of Chandra's press releases. You can read the two beautiful winning entries below: 'IC 4593' by Laura Sygrove, and 'A New Cosmic Triad of Sound' by Rebecca Hughes.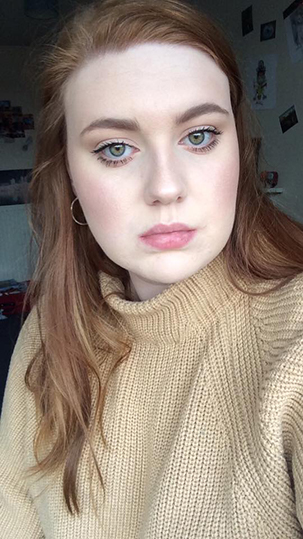 Laura Sygrove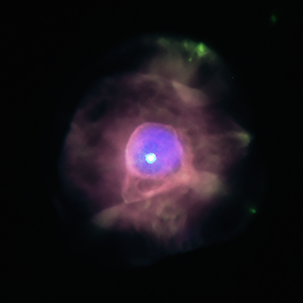 IC 4593
Laura Sygrove is studying an MA in Creative Writing at the University of Leicester. She is an avid consumer of science-fiction and fantasy novels, horror movies, and puzzle-platform adventure games. Her poem, 'IC 4593,' is inspired by the Chandra feature, 'A Cosmic Amethyst in a Dying Star'. She writes about the poem that 'IC 4593 is a planetary nebula, born out of a dying star. The intent of my poem was to view cosmic phenomena through the lens of human experience and emotion. For we are all stardust.'
IC 4593
Is it lonely
dying
7,800 light years from earth?
I'm curious, is it lonelyout there
for a planetary nebula
with nothing and no one?
Perhaps I am ignorantperhaps
we mean nothing
to you –us humans,
egocentric species:
our selves reflected in the heavens,
in Ptolemy we perish.
Forgive me, I am
ignoranttherefore I am.
Does it hurt
tearing yourselfopen
peeling back the sordid flesh?
Rejecting layers
upon layersof molten rock.
Tell me, does it hurt
the purplish fire in you?
Setitfreeyou must be powerful as the sun.
Look –seehow it bubbles and boils
the fumes will make you silly
it will reach the surface in time
but firstit will make you miserable.
Your insides will shrivel to (star)dust,
you will wither as the leaves on the trees;
but you will begin anew.
Remember:you breathed life into me.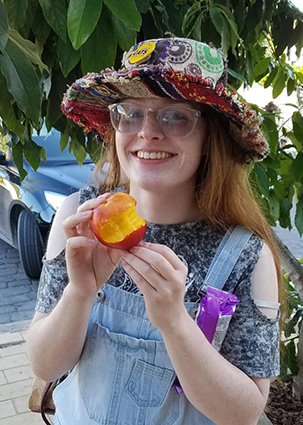 Rebecca Hughes
Rebecca Hughes is a final year English student at the University of Leicester. She enjoys anything creative, such as art, music or theatre and loves to explore these skills whenever she can. Her winning poem is 'A New Cosmic Triad of Sound,' which is inspired by the Chandra feature 'Data Sonification: A New Cosmic Triad of Sound'. She writes: 'Chandra's blog about data sonification inspired me after I listened to the bullet cluster sonification video. The sonification represented the image of the bullet cluster through sound which made me think of synaesthesia. This is due to the combination of cosmic imagery and sound which merged the senses, like synaesthesia. This gave me the idea to blend the imagery in the poem with literal comparisons, for instance making the reader interact with elements of space as though they were physical objects. Furthermore, a lot of the imagery came from musical terms because the theme of the article is based on sound. To add depth, I mixed comparisons of elements of space alongside musical instruments and terms, to blend them, like the imagery and sound of sonification. I also tried to add an element of mystery to the poem as that was the feeling I got when listening to the sonification video and, for me, mystery is an important theme of space exploration.'
See & Listen to More
Bullet Cluster Sonification, Credit: NASA/CXC/SAO/K. Arcand, SYSTEM Sounds (M. Russo, A. Santaguida)
A New Cosmic Triad of Sound
Step into the sound,
this meandering marimba melody,
that swells with uncertainty.
Are we alone?
Peel back the blanket of dark matter.
Those still shining stars are stepping-
-stones in the river of the cosmos.
Others – in a blink of brightness –
are extinguished to join the dark.
Listen.
That symphony of sounds rises to a
triumphant peak.
Each atom wishes on their own star
to be heard amongst the whispers.
Maybe, we are not alone.
Once more a hush descends as the
curtain falls upon the cosmic triad.
Disclaimer:
This service is provided as a free forum for registered users. Users' comments do not reflect the views of the Chandra X-ray Center and the Harvard-Smithsonian Center for Astrophysics.
Please note this is a moderated blog. No pornography, spam, profanity or discriminatory remarks are allowed. No personal attacks are allowed. Users should stay on topic to keep it relevant for the readers.
Read the privacy statement