Submitted by

chandra

on Tue, 2012-09-11 12:09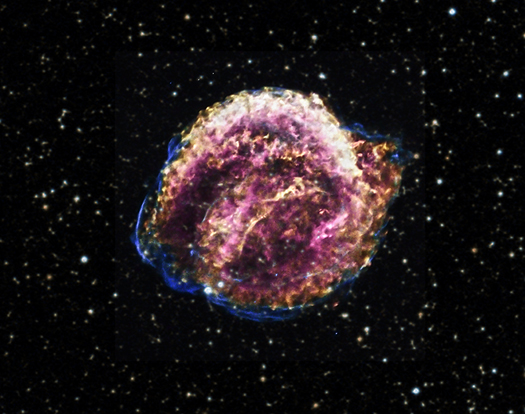 In 1604, a new star appeared in the night sky that was much brighter than Jupiter and dimmed over several weeks. This event was witnessed by sky watchers including the famous astronomer Johannes Kepler. Centuries later, the debris from this exploded star is known as the Kepler supernova remnant.
Astronomers have long studied the Kepler supernova remnant and tried to determine exactly what happened when the star exploded to create it. New analysis of a long observation from NASA's Chandra X-ray Observatory is providing more clues. This analysis suggests that the supernova explosion was not only more powerful, but might have also occurred at a greater distance, than previously thought.