The Chandra Astrophysics Institute, Part III
Submitted by

chandra

on Mon, 2008-09-15 15:15
Sambath Kol (known as Simba) relates his experiences with the Chandra Astrophysics Institute in this third article of the series.
(Continued from Part II)
-------------
Here I am again, riding the early train in the morning to MIT for Chandra's Astrophysics Institute. However, this time around, I'm not going to learn as a student but as an intern. During the brief stops on the train, between being forced to stare at the person in front of me and listening to the robotic male voice over the speaker for stops, I like to think back how and why I'm here again.
At the end of my junior year in high school, Dan (computer repair teacher/mentor) convinced me to join CAI. Dan's way of convincing students to join was with snacks and high anticipation of a grand career. Going into CAI, my level of maturity and intelligence was still developing. CAI taught an informal method of learning, different from the formal tradition of regular high school. I was used to studying text books, reading and memorizing information, and substitute information into answers on tests. The CAI experience was a difficult transition for me. Over the course of CAI in the summer of 2005, my level of effort seemed to diminish with every passing day. The causes of the lack of effort were presumably that I couldn't comprehend all the material being taught. The feeling of being behind everyone has always taunted me; the choice of quitting was the simplest path. My interest in astronomy was still there, however the interest was not enough to keep me focus on the program. At the end of the summer/beginning of the school year, my decision was pretty clear to quit.
The following school year was my senior year in high school. The pandemic senioritis seemed too had broken out early for me and my CAI partner Brian. Brian and I had found a formula to get through high school with the smallest possible amount of effort divided by a modest amount of time attending to get good grades. At the time, my priorities were being a teenager, making money, and expecting college to be a breeze.
After high school, I became conscious that college wasn't a breeze. Things are not just handed to you anymore; you have to want it and then earn it in college. I took my first semester off after high school due to financial issues. The point where my regrets might have caught up to me was the time when I was selling knives to my friends for money. After that semester off, my eager eyes to learn lastly opened. I regret not learning more from what Dan had to teach me, not taking advantage of learning Computer Aided Drafting Design my senior year, and quitting CAI. Opportunities shortened over time while disappointment increased over time.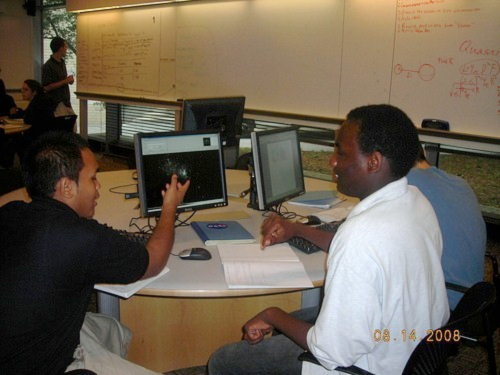 Simba and a student at CAI
"We are what we repeatedly do. Excellence, then, is a habit (Socrates)." This quote contradicts my current philosophy of life in a way that I optimistically believe the universe tends to work itself out on its own. However, I see the quote as the proper way to behave to get where I want to be in life. The two different models seem to "fit" my life. A second opportunity came knocking through my email inbox couple of months ago. I'm not the type to past up on opportunities of prominence anymore when I see it. Mark, CAI teacher, was looking for a few interns from past CAI students to help him educate teenagers from urban areas about how to be a scientist, team work, and astrophysics. Using Ds9 software to examine X-ray images taken with the X-ray telescope Chandra.
Well finally I'm at the MIT/Kendall train stop. Off to another interesting day of CAI with Mark, the other interns, and the students. Maybe on the ride home I'll think about what I still plan to do with my career.
-Simba
Disclaimer:
This service is provided as a free forum for registered users. Users' comments do not reflect the views of the Chandra X-ray Center and the Harvard-Smithsonian Center for Astrophysics.
Please note this is a moderated blog. No pornography, spam, profanity or discriminatory remarks are allowed. No personal attacks are allowed. Users should stay on topic to keep it relevant for the readers.
Read the privacy statement