Mysterious X-ray Signal Intrigues Astronomers
Submitted by

chandra

on Mon, 2014-06-23 13:36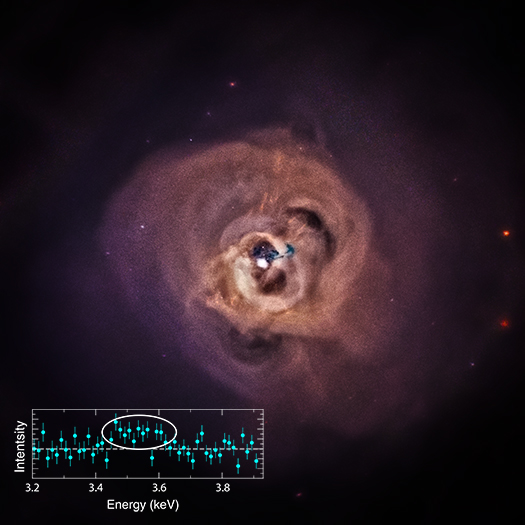 A new study of the Perseus galaxy cluster, shown in this image, using NASA's Chandra X-ray Observatory and 73 other clusters with ESA's XMM-Newton has revealed a mysterious X-ray signal in the data. This signal is represented in the circled data points in the inset, which is a plot of X-ray intensity as a function of X-ray energy. The signal is also seen in over 70 other galaxy clusters using XMM-Newton. This unidentified X-ray emission line - that is, a spike of intensity at a very specific energy, in this case centered on about 3.56 kiloelectron volts (keV) - requires further investigation to confirm both the signal's existence and nature as described in the latest Chandra press release.
One intriguing possible explanation of this X-ray emission line is that it is produced by the decay of sterile neutrinos, a type of particle that has been proposed as a candidate for dark matter. While holding exciting potential, these results must be confirmed with additional data to rule out other explanations and determine whether it is plausible that dark matter has been observed.
There is uncertainty in these results, in part, because the detection of this emission line is pushing the capabilities of both Chandra and XMM-Newton in terms of sensitivity. Also, there may be explanations other than sterile neutrinos if this X-ray emission line is deemed to be real. For example, there are ways that normal matter in the cluster could have produced the line, although the team's analysis suggested that all of these would involve unlikely changes to our understanding of physical conditions in the galaxy cluster or the details of the atomic physics of extremely hot gases.
This image is Chandra's latest view of the Perseus Cluster, where red, green, and blue show low, medium, and high-energy X-rays respectively. It combines data equivalent to more than 17 days worth of observing time taken over a decade with Chandra. The Perseus Cluster is one of the most massive objects in the Universe, and contains thousands of galaxies immersed in an enormous cloud of superheated gas. In Chandra's X-ray image, enormous bright loops, ripples, and jet-like streaks throughout the cluster can be seen. The dark blue filaments in the center are likely due to a galaxy that has been torn apart and is falling into NGC 1275 (a.k.a. Perseus A), the giant galaxy that lies at the center of the cluster. A different view of Perseus, shown below, combines data from Chandra in the inner regions of the cluster and XMM data in the outer regions.
More at http://chandra.harvard.edu/photo/2014/perseus/
-Megan Watzke, CXC
Disclaimer:
This service is provided as a free forum for registered users. Users' comments do not reflect the views of the Chandra X-ray Center and the Harvard-Smithsonian Center for Astrophysics.
Please note this is a moderated blog. No pornography, spam, profanity or discriminatory remarks are allowed. No personal attacks are allowed. Users should stay on topic to keep it relevant for the readers.
Read the privacy statement