Q&A: Chandra Mission
Q:
What problems could the chandra face?
A:
Probably the most serious problem Chandra faces is from solar flares, especially the ones that generate large amounts of high energy particles. These particles can damage the detectors and the electrons. Chandra has monitors that warn of such events, and precautions are taken to guard against damage, but the danger cannot be eliminated completely. Another problem is meteors. The time of meteor swarms is known, and Chandra is pointed in a direction to safeguard the mirrors, but there is always the chance --fortunately very unlikely--that a meteor could strike Chandra and cause damage.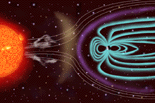 A magnetic cloud of plasma from a solar flare can affect Earth and damage satellites such as Chandra. The white lines represent the solar wind; the purple line is the bow shock produced by the interaction of the solar wind with the Earth's protective magnetosphere (blue lines). (Image not to scale.) Credit: NASA/SOHO