Q&A: General Astronomy and Space Science
Q: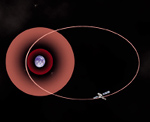 Looking at the real-time satellite
tracking applet
, I noticed that with a couple of exceptions it appears that every satellite you list, including Chandra appears in one of two basic orbital shells. One of these being very close to the Earth, and the other being somewhat farther away.
My questions are:
-Is it accurate that satellites fall into these two groups? Or is it just the representation of the applet that is making it look like this?
-What is the basic rationale for the two distances?
-Is there an international body that regulates where somebody gets to put a satellite?
A: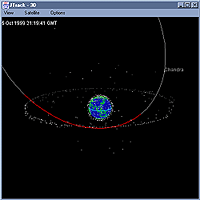 Your impression that satellites fall into two basic orbital shells is correct. The reason is the belts of high-energy particles trapped in the Earth's magnetic fields (Van Allen radiation belts). The radiation belts become important at around 1000 km, so most spacecraft are in orbits below the belts. The only ones higher than that and below geostationary Earth orbit have to have a real good reason to be there. In Chandra's case, the reason was improved observing efficiency, with the trade-off that it is impossible to service it from the Space Shuttle. The International Telecommunication Union regulates locations in the geostationary orbit for satellites which transmit in the public bands (C, Ku, etc). There is no regulation of orbit positioning, just of radio frequency emissions.