Q&A: General Astronomy and Space Science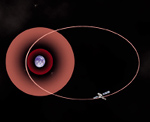 Q:
Is there a technical difference between a spacecraft vs. satellite? eg, all spacecraft can be satellites but not all satellites can be spacecrafts?
A:
A spacecraft is a vehicle or device designed for travel or operation outside the Earth's atmosphere, whereas a satellite is an object that orbits the Earth, the moon, or another celestial body. The Chandra X-ray Observatory and the
Hubble Space Telescope
are spacecrafts that are in orbit around the Earth, so they are also artificial satellites. The moon is a natural satellite of Earth, and Jupiter's moons are natural satellites of Jupiter. The
Voyager
and Pioneer spacecraft are not satellites because they are not in an orbit around any object.