Submitted by

chandra

on Tue, 2017-10-03 10:47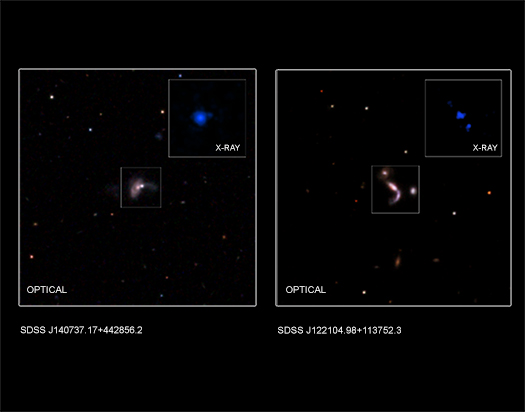 This graphic shows two of five new pairs of supermassive black holes recently identified by astronomers using a combination of data from NASA's Chandra X-ray Observatory, the Wide-Field Infrared Sky Explorer Survey (WISE), the ground-based Large Binocular Telescope in Arizona, and the Sloan Digital Sky Survey (SDSS) Mapping Nearby Galaxies at APO (MaNGA) survey. This discovery could help astronomers better understand how giant black holes grow and how they may produce the strongest gravitational wave signals in the Universe, as described in our press release.
Each pair contains two supermassive black holes weighing millions of times the mass of the Sun. These black hole couples formed when two galaxies collided and merged with each other, forcing their supermassive black holes close together. While theoretical models have predicted such giant growing black hole pairings should be relatively abundant, they have been difficult to find.