White Dwarfs & Planetary Nebulas
A hundred million years after the red giant phase all of the star's available energy resources will be used up. The exhausted red giant will puff off its outer layer leaving behind a hot core. This hot core is called a Wolf-Rayet type star after the astronomers who first identified these objects. This star has a surface temperature of about 50,000 degrees Celsius and is furiously boiling off its outer layers in a "fast" wind traveling 6 million kilometers per hour.

The radiation from the hot star heats the slowly moving red giant atmosphere and creates a complex and graceful filamentary shell called a planetary nebula (so called because it looks like the disk of a planet when viewed with a small telescope). X-ray images reveal clouds of multimillion degree gas that have been compressed and heated by the fast stellar wind. Eventually the central star will collapse to form a white dwarf star.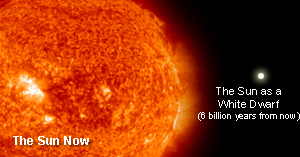 In the white dwarf state, all the material contained in the star, minus the amount blown off in the red giant phase, will be packed into a volume one millionth the size of the original star. An object the size of an olive made of this material would have the same mass as an automobile! For a billion or so years after a star collapses to form a white dwarf, it is "white" hot with surface temperatures of about twenty thousand degrees Celsius.

When they were first discovered, white dwarfs presented a paradox to astronomers. If a white dwarf couldn't produce energy through nuclear fusion, how could it generate the pressure necessary to keep it from collapsing further? It didn't seem possible, yet there they were, glowing dimly and reminding scientists that "the fault is not in the stars, but in their theories," to paraphrase Shakespeare.