Submitted by

chandra

on Thu, 2012-11-15 10:48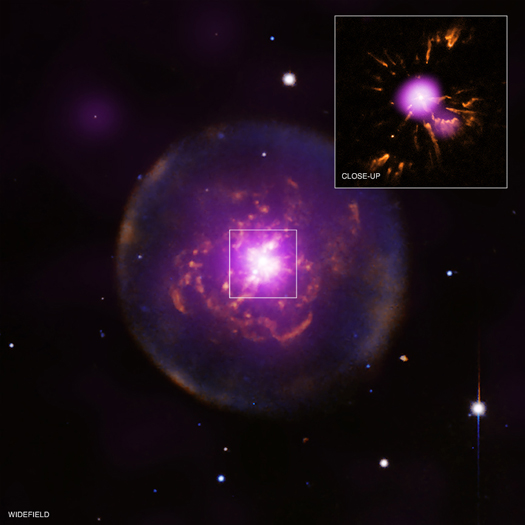 These images of the planetary nebula Abell 30, (a.k.a. A30), show one of the clearest views ever obtained of a special phase of evolution for these objects. The inset image on the right is a close-up view of A30 showing X-ray data from NASA's Chandra X-ray Observatory in purple and Hubble Space Telescope (HST) data showing optical emission from oxygen ions in orange. On the left is a larger view showing optical and X-ray data from the Kitt Peak National Observatory and ESA's XMM-Newton, respectively. In this image the optical data show emission from oxygen (orange) and hydrogen (green and blue), and X-ray emission is colored purple.
A planetary nebula - so called because it looks like a planet when viewed with a small telescope - is formed in the late stage of the evolution of a sun-like star.