Submitted by

chandra

on Wed, 2012-11-28 11:06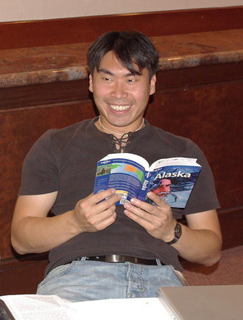 Teddy Cheung,
Credit: Craig Walker
We are delighted to welcome Teddy Cheung, from the National Academy of Sciences, and resident at the Naval Research Laboratory in Washington DC, to give a guest blog post today. Teddy is first author of a paper describing the discovery of the most distant X-ray jet detected to date. Here, he explains some of the background story behind this discovery.
When I started graduate school in 1999 at Brandeis University, exciting discoveries were being made down the road in Cambridge, Massachusetts, with the then newly launched Chandra X-ray Observatory. The first Chandra image unexpectedly revealed a bright X-ray jet from a distant quasar (http://chandra.harvard.edu/press/99_releases/press_082399.html) and the research groups at SAO and MIT were puzzling over it. But it took me leaving Boston to find my eventual connection.
I spent the summer of 2000 at the Space Telescope Science Institute in Baltimore, Maryland, wanting to learn something entirely new and took on a project in Meg Urry's group studying the galaxies of BL Lac objects (a type of cousin to the quasars) using ground-based near-infrared data. Coincidentally, I shared an office with another graduate student working with Dr. Urry for the summer, Fabrizio Tavecchio from Italy, and they were at that time puzzling over the same Chandra jet detection. Little did I appreciate at the time, that this visit to Baltimore would lead back to my eventual PhD project at Brandeis on the Chandra quasar jets.