HERE, THERE, EVERYWHERE OVERVIEW

Here, There, and Everywhere (HTE) is a NASA-funded program that consists of a series of exhibitions, posters, and supporting hands-on activities that utilize analogies in the teaching of science, technology, engineering and math (STEM) to provide multi-generational and family-friendly content in English and Spanish for community centers, libraries, schools, and under-resourced or small science centers. The purpose of the program is to connect cross-cutting content—in Earth, atmospheric, planetary sciences and astrophysics—with everyday phenomena, helping to demonstrate that what happens here (in our daily lives), happens there (on a planetary scale), and happens everywhere (across the Universe). The HTE program utilizes multimodal content delivery (physical exhibits and handouts, interpretive stations, facilitated activities for educators as well as online materials) hosted by locations for informal science learning as identified by previous partnerships as well as through advertisement of opportunities.
OBJECTIVE
HTE satisfies multiple outreach goals:
Customer needs focus: Derived originally from feedback from existing projects by the Chandra X-ray Observatory, such as From Earth to the Universe, and From Earth to the Solar System, (Arcand & Watzke, 2010, 2012) additional user feedback was sought and analyzed to determine if audiences were being reached.
Partnerships: Cross-forum linkages (from planetary science to heliophysics to astrophysics), informal science education practitioner collaboration. HTE images and information come from multiple science missions, Chandra, Hubble, and Cassini, GOES-11, GOES-12, etc.
Sustainability: HTE is using a model of public science to continue reaching out to previous network of public science organizers and participants (Arcand & Watzke, 2010), building upon established relationships to build capacities for opportunities in engaging audiences with science content.
View a slideshow on the HTE exhibit.

"The exhibition's many fascinating images and abundant information is engaging for all ages and includes interactive activities about the physics that surround us, from shadows, to windblown particles, to bow waves and bent light. This has been a wonderful experience for our small library and the many people who have seen the exhibit. Today has been filled with viewers who are in the library to vote. All of us here at the Library are so glad to have been included..."
- Pamela Hale, Christiansburg Librarian, Christiansburg, Virgina
EVALUATION: PRELIMINARY DATA
This preliminary dataset examines 71 randomly selected visitors across 3 institutions (EcoTarium, Worcester, MA; Christiansburg Library, Christiansburg VA; and Radford, University and Planetarium, Radford, VA) surveyed between Oct-Nov 2012. Visitors were asked to complete a paper and pencil survey upon exiting the exhibit. Survey participants were evenly distributed by gender (forty-nine percent female and fifty-one percent male).
These visitors attend a variety of events and activities: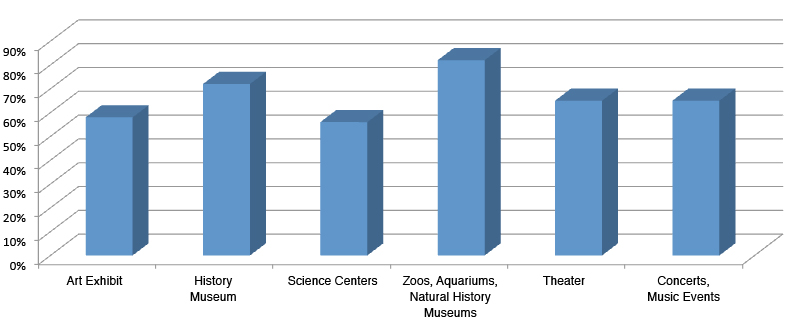 Why they were drawn to this exhibit:

Visitors were asked how much they liked the exhibit using a rating scale from 1-5. The average rating was 4.4 with fifty-five percent of respondents rating the exhibit a 5.
Here is further feedback from the exhibit:

Resulting interest from attendees:

SUMMARY
Research strongly suggests that the knowledge and reasoning of participants is situated within a context. Here, There, and Everywhere can achieve the important goal of allowing participants to discover how scientific knowledge relates to everyday experiences and familiar phenomena. HTE also seeks to provide science content and engagement in a realm that shows great promise in increasing scientific literacy and interest in large segments of the greater public. By placing engaging and accessible scientific content into public spaces such as libraries, HTE can establish unusual and memorable connections between exciting topics. Preliminary evaluation shows that these connections help ignite excitement and an appetite to learn more in lay audiences. Public science projects including HTE can help open the pipeline, to empower more non-experts into deeper learning opportunities in informal and formal STEM education.