Skip to main content
The concept of speed is infused into our lives, whether if it is as we run, drive a car, or travel across the globe. Of course, the athletes in the Olympic Games are often the fastest in the world. This is apparent in many of the Olympic sports from track and field to cycling to downhill skiing and speed skating.
While we are used to asking, 'who is faster,' it's important to understand just what speed represents. Speed is defined as a distance traveled over a certain period of time. In science, we would write this as the equation "speed equals distance divided by time." We've become rather used to this equation – even if we don't realize it. Using this equation, for example, cars provide speed in miles or kilometers per hour. This gives the number of miles or kilometers that would be covered if you moved at that speed for one hour.
The international standard unit for speed is different. The distance is measured in meters, while the amount of time considered is one second. By converting speeds from common experiences into meters per second, we can use this as a reference point for exploring the enormous range of speeds around the world and across the Universe.
For example, a car moving at 20 miles per hour (or 32 kilometer per hour) is going the equivalent speed of about 9 meters per second. An Olympic athlete, however, can move even faster. Usain Bolt has been clocked running at 12.4 meters per second in the 100-meter sprint. And over a dozen cyclists at the velodrome at the 2012 London Games reached top speeds over 20 meters per second.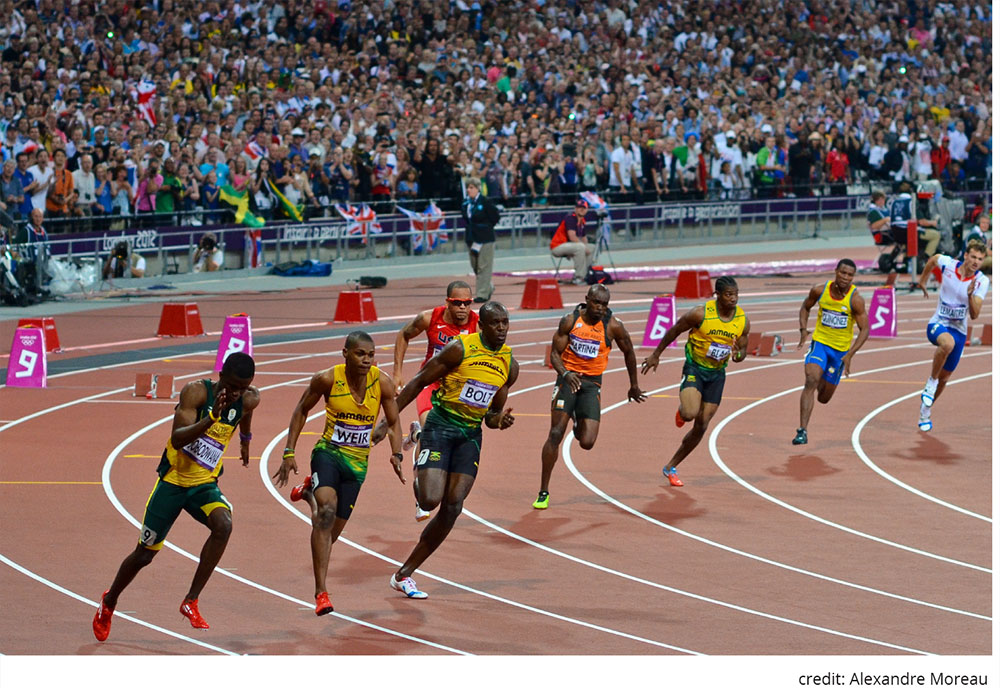 These are incredibly impressive feats of speed in the arena of athletic competitions. They also make the speeds found elsewhere even more amazing. For example, the speed of sound in the Earth's atmosphere is about 340 meters per second. Meanwhile, the International Space Station orbits the Earth at about 7,600 meters per second, and the Earth travels around the Sun at some 30,000 meters per second.