The Story of SCO X1: An Abundance of Riches


After several months of analysis back at their laboratory in Cambridge, Massachusetts, Giacconi, Gursky, and Frank Paolini reached a surprising, but unmistakable conclusion: the signal was real, not an equipment malfunction, and not from the Moon. It was from a cosmic source of X-rays of truly staggering proportions. From the depths of space, came X-rays so plentiful that they exceeded the Sun's entire energy output by a factor of 100, and exceeded its X-ray output by a factor of about one hundred million!

It was a totally new type of object, dubbed SCO X-1 (for the first X-ray source to be discovered in the constellation of Scorpius). This and subsequent rocket flights soon made it clear that Nature is showering us with X-rays from virtually everywhere (Astronomers have since discovered thousands of these X-ray sources. Although far more luminous than Sun, they are so distant that even SCO X-1, the source with the highest apparent X-ray brightness, sends to the Earth each second less than one billionth of the energy you receive in a single dental X-ray photo. (And that even assumes that all of the SCO X-rays penetrate the Earth's atmosphere instead of being absorbed by it).

After the discovery, the search was on in the sky to see which "star" was giving off the X-ray light. The answer was not long in coming; a completely obscure but very peculiar blue object in the constellation of Scorpius was the culprit. The arrow in the sky photo below marks the spot.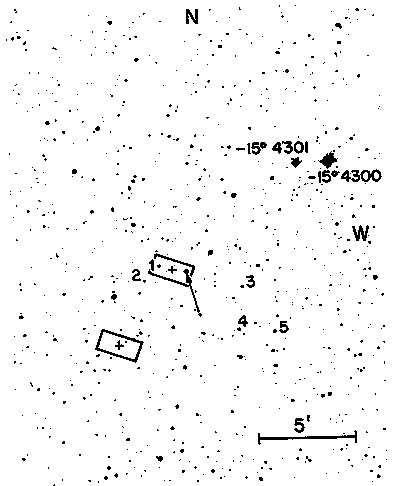 The arrow above points to the new X-ray source
(seen here in a conventional visible light photo)



The dam had burst. On Oct. 15, 1967 Walter Lewin and collaborators at MIT observed SCO X-1 and discovered the first extra-solar X-ray flare ever. So now we found out that these X-ray stars could change their brightness in just a few minutes! Soon rocket flight after rocket flight revealed more of these strange objects, and theoretical astrophysicists realized that neutron stars were responsible for the stupendous energy generated by many of these cosmic X-ray beacons. A whole new field of science had been born, galactic X-ray astronomy. It was (and is) a world of binary stars with exciting phenomena that are still being uncovered by the latest generation of X-ray telescopes being flown now, 35 years after the first observation of SCO X-1...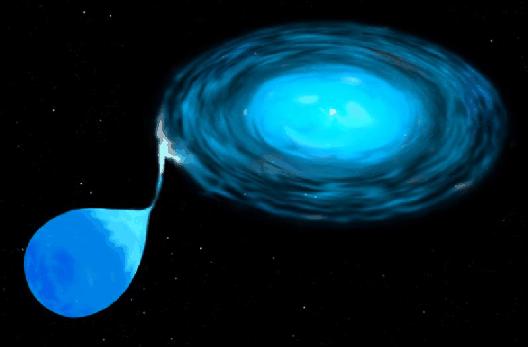 An X-ray binary star...the x-rays come from the object on the right