Panelist Biographies
---
Marat Gilfanov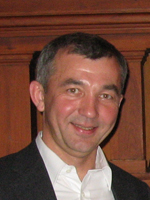 Dr. Marat Gilfanov is a staff member at the Max-Planck-Institute for Astrophysics in Garching. He is also a leading scientist at Space Research Institute of Russian Academy of Science in Moscow. He graduated from the Moscow Institute of Physics and Technology in 1985 and received his PhD in theoretical physics from Space Research Institute in Moscow in 1989 and the degree of Doctor of Science in astrophysics in 1996. Dr. Gilfanov has published over 350 scientific papers. In 1992 he received the COSPAR's Zeldovich medal for young scientists. His interests cover a broad range of topics of high energy astrophysics, including astrophysics of compact objects, accretion, X-ray populations in galaxies, physics of intergalactic and interstellar medium and, recently, origin of type Ia supernovae.
Akos Bogdan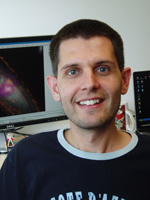 Ákos Bogdán is a graduate student at the Max Planck Institute for Astrophysics (MPA) in Garching, Germany. He studied at the Eötvös Loránd University in Budapest, Hungary and received a MSc degree in Astronomy in 2006. In MPA Ákos works with Marat Gilfanov on various phenomena of high energy astrophysics. His research interest mainly focuses on the hot X- ray emitting gas from nearby galaxies and on the nature of progenitors of type Ia supernovae. Ákos already submitted his dissertation and his PhD defense will take place at the end of February 2010.
Mario Livio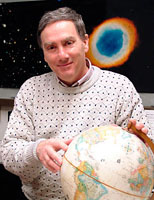 Dr. Mario Livio is a senior astrophysicist and Head of the Office of Public Outreach at the Space Telescope Science Institute (STScI), the institute which conducts the scientific program of the Hubble Space Telescope. He received his Ph.D. in theoretical astrophysics from Tel Aviv University in Israel, was a professor in the Physics Dept. of the Technion-Israel Institute of technology from 1981 till 1991, and joined STScI in 1991. Dr. Livio has published over 400 scientific papers and received numerous awards for research, for excellence in teaching, and for his books. His interests span a broad range of topics in astrophysics, from cosmology to the emergence of intelligent life. Dr Livio has done much fundamental work on the topic of accretion of mass onto black holes, neutron stars, and white dwarfs, as well as on the formation of black holes and the possibility to extract energy from them. During the past decade Dr. Livio's research focused on supernova explosions and their use in cosmology to determine the rate of expansion of the universe, and the nature of the "dark energy" that causes the cosmic expansion to accelerate.
In addition to his scientific interests, Dr. Livio is a self-proclaimed 'art fanatic' who owns thousands of art books. In the past few years, he combined his passions for science and art in four popular books: "The Accelerating Universe", which appeared in 2000, "The Golden Ratio", which appeared in 2002, "The Equation that Couldn't Be Solved," that appeared in 2005, and most recently "Is God A Mathematician?", which appeared in 2009. Dr. Livio lectures very frequently to the public. He has given more than 20 full day seminars to the public at the Smithsonian Institution in Washington D.C., and just during the past few years has given public lectures at the Hayden Planetarium in New York, The Maryland Institute College of Art, the Cleveland Museum of Natural History, the Berlin Planetarium, the Edinburgh Planetarium, and many more. His book "The Golden Ratio" has won him the "Peano Prize" for 2003, and the "International Pythagoras Prize" for 2004, as the best popular book on mathematics, and his book "Is God A Mathematician?" was selected by the Washington Post as one of the best books of 2009.