Submitted by

chandra

on Tue, 2011-10-25 12:52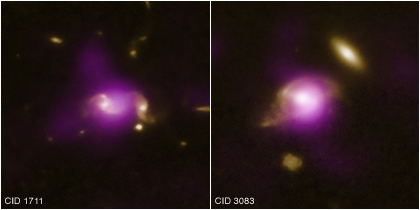 Astronomers have used a large survey to test a prediction that close encounters between galaxies can trigger the rapid growth of supermassive black holes. Key to this work was Chandra's unique ability to pinpoint actively growing black holes through the X-rays they generate.
The researchers looked at 562 pairs of galaxies ranging in distances from about 3 billion to 8 billion light years from Earth. They found that the galaxies in the early stages of an encounter with another were more likely than isolated, or "lonelier" galaxies to have actively growing black holes in their cores.