Submitted by chandra_blog_manager on Tue, 04/26/2011 - 17:40.
This Chandra image of the Tycho supernova remnant contains new evidence for what triggered the original supernova explosion. Tycho was formed by a Type Ia supernova, a category of stellar explosion used in measuring astronomical distances because of their reliable brightness. In the lower left region of Tycho is a blue arc of X-ray emission. Several lines of evidence support the conclusion that this arc is due to a shock wave created when a white dwarf exploded and blew material off the surface of a nearby companion star. This supports one popular scenario for the trigger of a Type Ia supernova. Understanding the origin of Type Ia supernovas is important because they have been used to determine that the Universe is expanding at an accelerating rate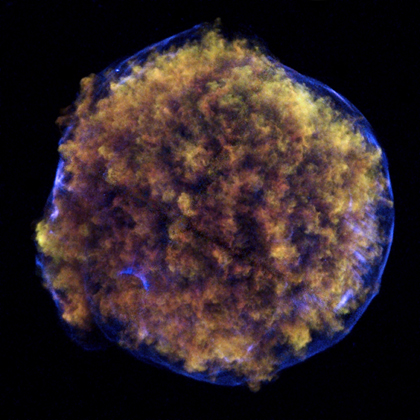 Tycho's Supernova Remnant: A supernova remnant named after the Danish astronomer who observed it in 1572. (Credit: NASA/CXC/Chinese Academy of Sciences/F. Lu et al)
More at http://chandra.harvard.edu/photo/2011/tycho2/
-Megan Watzke, CXC
Disclaimer:
This service is provided as a free forum for registered users. Users' comments do not reflect the views of the Chandra X-ray Center and the Harvard-Smithsonian Center for Astrophysics.
Please note this is a moderated blog. No pornography, spam, profanity or discriminatory remarks are allowed. No personal attacks are allowed. Users should stay on topic to keep it relevant for the readers.
Read the privacy statement