posted by
chandra
on
Tue, 2010-08-24 17:55
We have posted a few times on the Chandra blog about a project known as "Aesthetics & Astronomy" (A&A, for short). It's a research study we're conducting along with a team of experts outside of astrophysics to see just how the public perceives and understands the images we put out, as well as those from other observatories and wavelengths.
Today we're rolling out a new way for people to participate in this study: a version of the A&A survey for your mobile phone: http://chandra.si.edu/mobile/aa.html
This survey is quick – just a handful of questions – and you get to tell us exactly what you think about a particular image.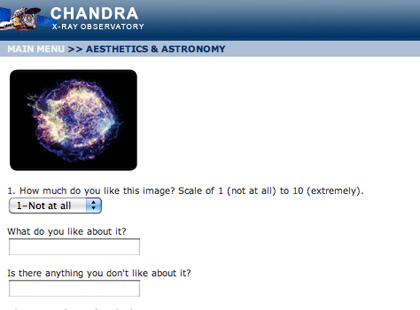 The goal is to gather enough data so that those of us on this side of astronomical imagery know the best way to process, color, crop, and contextualize the gorgeous glimpses we get of the cosmos. Trust us, we want to hear your thoughts and ideas.
Try it at: http://chandra.si.edu/mobile/aa.html
-Megan Watzke & Kim Arcand, CXC