posted by
chandra
on
Mon, 2010-06-07 16:24
Yesterday, the 2010 World Science Festival came to a climatic end with its Street Fair. This is the third year for this ambitious science festival that seems to take over Manhattan for several days. This year's Street Fair spilled out from Washington Square Park into the streets around it.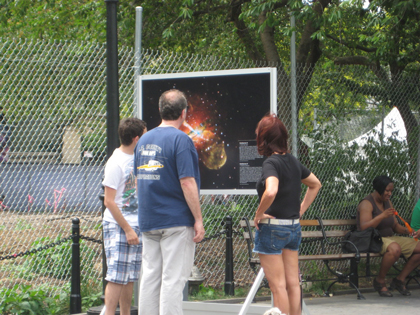 Like last year, the Street Fair showcased Chandra images as part of the "From Earth to the Universe" project. The FETTU panels were arranged around the fountain in the middle of the park, providing a nice route for people to circle. The mood of the festival's attendees was excited and upbeat – which is saying something on a very hot and humid day in New York City.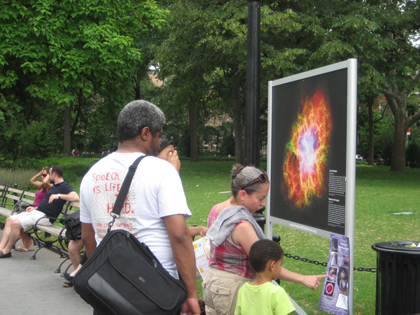 The World Science Festival is just one of several science festivals that are being planned for a variety of US locations. Later this year, we can look forward to the USA Science Festival on the National Mall in Washington, DC in October, and festivals are scheduled for Philadelphia and the Bay Area for 2011.
What's your take on science festivals gaining in popularity in the US? Have you ever attended one, like in New York this past week, or maybe in a city in another country? If you have an opinion on these sci-fests – and the kinds of things you like and don't within them – let us know.
-Megan Watzke, CXC